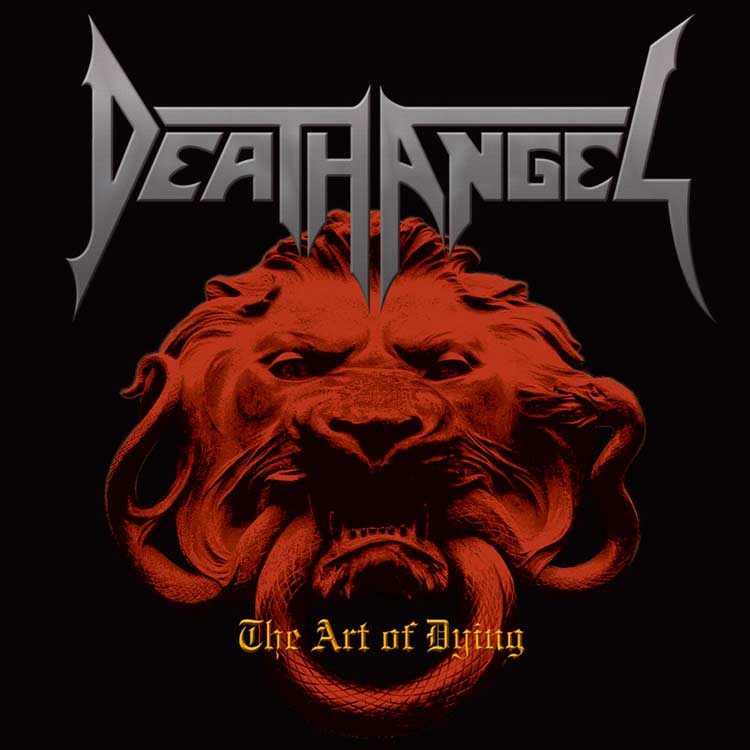 1. Thrown To the Wolves 7:26
2. 5 Steps of Freedom 4:46
3. Thicker Than Blood 3:42
4. The Devil Incarnates 6:05
5. Famine 4:30
6. Prophecy 5:09
7. No 3:23
8. Spirit 6:23
9. Land of Blood 3:37
10. Never Me 5:16
11. Word to the Wise 4:56
With "Thrash of the Titans" in the rear-view mirror, what once was considered a one-off gig for these Bay area thrash legends, was now turning into something more. When the Dynamo Festival came calling in the summer of 2002, a full-fledged reunion was on. Enter permanent member Ted Aguilar (b. 1972). Born and raised in the San Francisco area, Ted was now the permanent replacement for Gus Pepa. By 2002 and beyond, there was a Thrash revival taking place. It included the likes of Exodus, Lȧȧz Rockit, Vio-lence, Heathen and Forbidden from the Bay area. On May 4th, 2004, Death Angel had released their fourth album "The Art of Dying."
Track 01. "Thrown to the Wolves" is the highlight of this album in my opinion. It's a highlight track for the band's career. Its acoustic interlude builds the anticipatory thrashings akin to something like Battery. I've always been a sucker for this, as it makes the heaviest or fastest moments in a song that much more. This first tune restored a faith that the band we once knew from "The Ultra-Violence" was still a force. "Thrown to the Wolves" has that familiar start stop method used in Act III. Though I've always been sort of hit or miss when it comes to gang vocals, I've always felt like Death Angel were the best when it came to vocal harmonies. They've had this perfect three attack approach from Mark, Rob and Andy. They all sound so very different from each other, so they're easy to follow in the mix of the song. The chorus is catchy as all hell and the main riff is fast and fucking dirty sounding. It's a killer live track that makes me want to mosh it up and return the "Oh, Oh, Oh" right back at the band. What's great about this song, it either works out as the opening number or the closing number. I've been able to witness both. It's a staple in their live catalog and I doubt there would ever be a reason for one not to hear it in a live setting. If there was one song to introduce a beginner to this scene, I might actually choose this song. That's how much I think of this song!
Track 02. "5 Steps of Freedom" as great of a song as it is, would be considered a vast departure from the opening track. In fact it sort of sounds like something that might have been on one of the first Organization record or what might have been the next SWARM record. Though I hated the fourteen-year absence of this band, I always wondered how it might have helped the likes of Mark Osegueda, who shines on this vocally. He really hasn't lost a bit of range. For myself, he's like the Chuck Billy's of the world, who have really done a great job not losing much vocally. "5 Steps of Freedom" is a bit of thrash, mixed with a bunch of groove. It's a foot stomper of a song. I've never heard this song live before and I'm thinking we probably won't.
Track 03. "Thicker Than Blood" is a fun fucking song. I love the bridge in this song, as it gives all four members a chance to shine on their various instruments. It's an homage to the "Frolic Through the Park" days, as there tends to be a lot of just unique sounds going on at various times. It's an unconventional hooky number, which isn't necessarily old school or modern. I guess you could say it's Death Angel in their truest form. By song's end Mark Osegueda belts out one of those famous screams that is reminiscent of "Mistress In Pain."
Track 04 "The Devil Incarnate" is haunting and downright creepy. Though one might have to really dive into most of Mark Osegueda's lyrics to understand the meaning behind them, this would not be one of those times. These are straightforward and to the point. When I hear the song, I think of the movie "End of Days" starring Arnold Schwarzenegger, Robin Tunney, Kevin Pollack and the fabulous Gabriel Byrne as Lucifer himself. Byrne's performance might be my favorite interpretation of the devil himself. I often wish this song had been written earlier before the movie came out in 1999. Because of it had, how do you not include it on the soundtrack. This is also one of those songs that shine studio wise, but never seems to be captured live (when the band used to play it). Having said that, I would love to hear it once live! This track is doomy Death Angel at their most grandiose. I wish we could get one of these types of songs with every release.
Track 05. "Famine" is a bass driven number. It's not necessarily Death Angel trying to be someone else from the previous decade, but it's something that would have been popular in the previous decade. Let's just be honest. I like it for its quirky style, even though at times it feels like it might be out of place. It's weird to think that Rob Cavestany used a talk box on this song. It's a fun song, but this might be where the album has a slight lull.
Track 06. "Prophecy" has a great opening lead followed by a nice galloping riff. Though I enjoy the tempo of the song, it's not a track I return to very often. There's really nothing wrong with it, but it's just not one of my go-to songs. One thing would be its lack of a strong chorus. Easily my favorite part of the song is the last 15 seconds. It sounds like it's going to end, but it doesn't, and it goes to what I considered the best hook in the song. It's still a decent song; I just wanted a bit more.
Track 07. "No" is another song that I don't revisit all that much. I love the opening part of the song, but I feel like it doesn't really go anywhere. I'm not huge on the lead work on this song either. I think this song definitely sound like something which would have been on the next SWARM album. It feels like a recycled riff from that period. It probably would have worked better for that band, rather than Death Angel. It's certainly not a bad song, but I think it lacks a hook.
Track 08. "Spirit" is a song which absolutely slays. The opening riff reminds me of "Thrown to the Wolves" and it's a song that clearly gets the band back on track. I love Andy Galeon's vocals on this song. His vocals have always been great in a backup role and when called on, could deliver a great vocal performance. This song also contains my favorite bass work from Dennis. It's all about the hook and this song has it. It has multiple great riffs, with what might be the strongest vocal moments throughout. The bridge is fantastic and is something akin to the decade of the 80's.
Track 09. "Land of Blood" is a song sang by bassist Dennis Pepa. He's not a terrible vocalist by any means, but it sort of kills the re-established momentum of the album. This feels like a moment where maybe Rob and Mark are trying to placate to the needs of various band members, so they don't arrive at a bad place, which they know they will end up at some place down the line. The song is my least favorite on the album.
Track 10. "Never Me" has a great opening riff, vocal approach, chorus and bridge. It's the complete package! I would love to hear this song live, but I'm guessing that will not happen. The only problem with this song is the sequencing. I would have placed this track somewhere in the middle of the album. It definitely should not have fallen behind Land of Blood and what probably amounted to musical fatigue by the listener. Attention spans are at an all-time low these days. I think this song often gets forgotten about, even the most ardent Death Angel fan.
Track 11. "Word to the Wise" is a fabulous way to end this musical journey. Rob Cavestany has a great voice. I loved it in Act III, the Organization and I love it here as well as what would become his 2007 debut solo album "Lines on the Road." More about that later... "Word to the Wise" incorporates everything I love about metal music and that's the use of wide-ranging sonic elements. When an acoustic guitar can make an electric guitar more impactful in a song, you've won me over! Rob's musical hero was Randy Rhoads. I can't think of a more fitting way to honor one's idol, then to show those same musical leanings. Not that the two songs sound much alike, but Diary of A Madman is my favorite acoustic interlude of all time.
I've always enjoyed the Tower Records show from S.F in 2004. There's literally hardly anyone there. What a fucking travesty!